It's been a while since I've blogged, but I have a burning desire to share a rather interesting experience that's too long to twitter about. Last night, I arrived in Austin for the the SXSW festival a day ahead of my Topspin homies. I landed, checked in, and went out to my only event of the night, the Facebook party at Pangea. My good friend, Grant Davis aka VJ Culture, was hired to do the video art, and he invited me to join him as his guest.
After catching up with Grant, I used the night to network with fellow SXSW Interactive festival goers and get some scoop of what Facebook is up to with music. I was satisfied with the evening and ready to leave around half past midnight. I went to the men's room for one last pit stop, and since all the heads were taken, I went to the handicapped stall. It was the only one available, and I was feeling safe so I didn't bother to lock the door. I'm minding and doing my own business when I feel someone pinch my ass. I turned around and was like, wtf, ready to unleash the fury on my molester. My rage immediately dissipated to shame as I looked back and then down to my perpetrator in his wheel chair. Since I'm a person who gets extremely angry when non-handicapped people park in handicapped spaces, I immediately got his point or rather his pinch to be more precise, and I felt awful. Prepared to receive a verbal spanking on handicapped bathroom protocol, I noticed he was smiling mischievously and clearly having some fun with me. In a similar flash of changing emotions, I began to recognize my stall mate. It was Mark Zupan from Murderball. The intense awkwardness of the moment was diffused, and I began to vociferously profess my admiration of Murderball and especially Mark's role in it. This is Mark in the movie poster.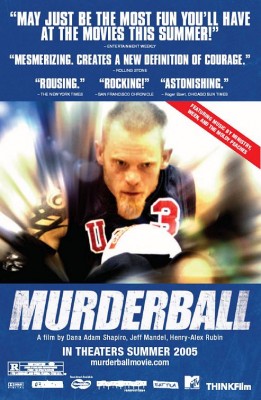 If you haven't seen it, please Netflix or seek it out NOW. It's one of the most inspiring documentaries I've ever seen. It's about the story of quadriplegic men who have found a renewed sense of purpose and life by playing wheel chair rugby. The story of Mark Zupan is particularly inspiring given the grace and tenacity in which he deals with his challenges, and the content of his character shines brightly in the movie. He's a natural leader, mentor to new quadripiligecs, and one of the fiercest competitors to ever play organized sports. His story along with those of the other players will leave you with a renewed sense of hope and determination. It's a wonderful tale of the human condition as the players and coach seek victory as a team and in their own unique, individual ways.
Check out the trailer to this amazing documentary:
Thanks Mark for the letting me be the butt of your joke last night. I'm just glad I got a chance to express my appreciation for you sharing your story and being such a wonderful inspiration to us all.