Today Pandora is launching a brand new version of the Artist Marketing Platform (AMP). The original version of AMP launched in October of 2014 and was a great first step in enabling artists and labels to get insights into how their music was performing in Pandora. As it evolved, new marketing features like artist audio messages were added along with the ability to promote new singles to a wider audience. The new version launching today has been rebuilt from the ground up with a new codebase and gorgeous new design. Check out the video to see what it's all about.
When I first joined Pandora in June of 2015, I was most excited by the possibilities of AMP and what it will mean for artists at every level and stage in their career. Today's new AMP represents a great team effort in rethinking what a marketing platform needs to do to address the number one challenge for artists: promoting music to fans in a sea of noise and making money. This is fundamentally a marketing problem, and AMP solves it by helping artists create campaigns that let them promote whatever is important to them including a new single or album, a show, a tour, merch, a cause, or literally anything an artist cares about.
When setting out to reimagine AMP, we wanted to help artists execute a marketing campaign as simply as possible and also accommodate the complexity of involved campaigns that span multiple objectives and touch-points. For example, a campaign to promote a new single can be comprised of two different integrated campaigns: a Featured Track campaign to push the single to a wider audience and an Artist Audio Message campaign that lets the artist speak in their own voice about that new track. Both those campaigns live within the main campaign to promote a new single.
Similarly a campaign to promote a fall tour across 20 cities can include different artist audio messages each geo-targeted and customized to the different cities of the tour. Each message has a unique link to buy tickets at each venue. All of those 20 artist messages with different links to buy tickets would live in one main campaign called something like 'Fall Tour 2016.' This nested structure gives artists a lot of power to manage integrated campaigns in a simple yet powerful way. The new AMP is built for the future and is architected in a way that will let us add new campaign types in the coming months to help artists premiere new albums, book shows at Ticketfly venues, or participate in an ever growing list of promotional opportunities on Pandora. 
Another important new part of AMP is the activity feed. It alerts artists to how their campaigns are doing and helps them take further action quickly.  They can improve and optimize the campaigns or double-down and share them further. These notifications reduce the complexity and guesswork out of marketing, while making AMP more intuitive and instructive.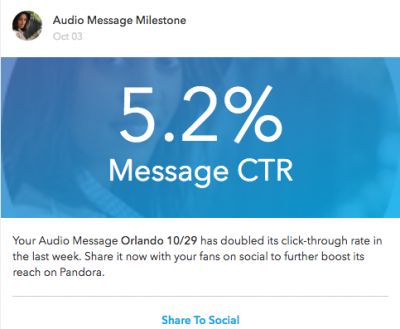 The activity feed also lets artists know that they have a newly ingested track to promote via an Artist Audio Message and Featured Track campaign or a new event listed within our Ticketfly network of promoters and venues. Simply clicking on these alerts will pre-populate the information so artists and their teams can quickly set the campaigns up and go live with a few clicks.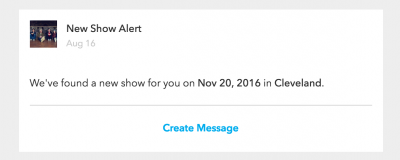 When you combine these new promotional capabilities with the the scale of Pandora's base of 80M uniqued listeners a month, you get the most powerful artist marketing platform on the planet. As artists use AMP to promote whatever they wish, the engagement rates and click-throughs are literally off the charts and well above 10x what you would see on the social networks, paid marketing channels, or other music services. This is mainly because people are on Pandora to listen to music and welcome the connection that AMP gives from their favorite artists.
Check out the AMP Playbook for more info and best practices on the new AMP. Today also represents the general availability of our AMPcast product that puts the power of artist audio messages into the hands of all artists on Pandora via their mobile phone. If you're an artist or label on Pandora go check out the new AMP and get on AMPcast here.